Our Awards

We just one our first award, from another Xander (isn't he adorable?)! We're so excited! Thank you, Xander!And everyone, go visit Xander and his little brother Sullivan! Click on the award to go to their site!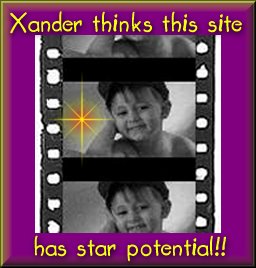 And look, we received another award! Justin declared both Xander and Ben adorable! Thanks, Justin! Click on the award if you would like to apply for one!



Our Xander picked out the background for this page. He got so excited when he saw it at Morvia's graphics page and started yelling "clue! clue!". So we had to bring it home and use it!