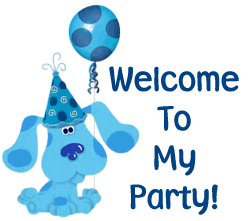 When I turned two, Mommy and Daddy had a party for me, a Blue's Clues party. My Grandma Umble and Grandma and Grandpa Flowers came, and so did Memaw and Rich, Aunt Mimi, Don and Kristi, and my Uncle Bryan. Mommy, Daddy and Ben were there, too, of course. I got so many great presents and my mommy made me a Tickety Tock cake! There were lots of potato chips, too! Those are my favorite.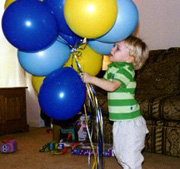 Here I am with my birthday balloons.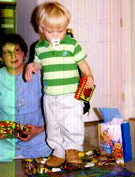 Everybody wanted me to rip the paper off these presents, but I thought it was much more fun to stand on them!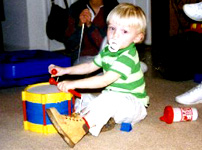 Uncle Bryan gave me a drum for my birthday. My Aunt Heather gave me this cool Steve shirt that I'm wearing.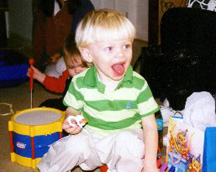 Here I am showing off my tongue!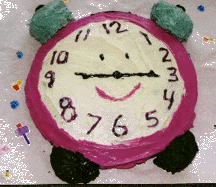 Here's my birthday cake!